Llanelli taxi driver banned after reviewing customers online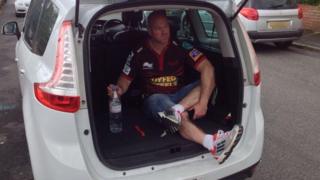 A taxi driver has been handed a three-week ban after posting online reviews of his passengers - rating them on their appearance and tips.
Richard Evans took secret pictures and made mocking comments of his passengers for his guide to other drivers.
An inquiry by Carmarthenshire Council heard that one passenger called "Shrek" by the cabbie was registered blind and has a number of disabilities.
Mr Evans, 44, has had his taxi licence suspended for 21 days.
After picking up passengers, the father-of-two would post pictures of them on Twitter, including their names and addresses, and comments on how generous they were with their money.
Apology
A taxi driver for more than 10 years, he shared his reviews with his fellow cab drivers in Llanelli, south Wales.
Speaking at the inquiry, Mr Evans said: "I admit it was very foolish and there was no malice intended.
"I want to apologise to everyone that I have harmed or caused offence to."
But the licensing committee chose to suspend Mr Evans of his taxi licence for 21 days - missing the busiest time of the year at Christmas and New Year.