Cardiff Dogs Home animals treated to Christmas dinner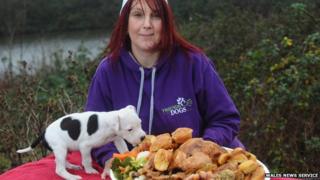 Pampered pooches have been tucking into a festive feast, courtesy of a dedicated volunteer.
Claire Nash has been dishing up Christmas dinner with all the trimmings for about 30 dogs at Cardiff Dogs Home.
She said: "Everyone deserves to be spoilt at Christmas and I'm happy to share a bit of festive spirit with all the dogs."
Manager Maria Bailie said the dogs got their slap-up treats only after a good long walk.
She added: "It's all dog-friendly food - they [volunteers] take the chicken off the bone and the dogs also get vegetables and potatoes, so it's all good."
Volunteer Ms Nash has dipped into her own pocket to pay for the dinners.
"It is costing me some money but I really don't mind," she said, as one animal charity warned on Tuesday that the number of pets being abandoned in Wales was "alarming".
"It just makes me so sad knowing these dogs won't be curled up in front of a roaring fire being cuddled and petted - so I decided to make Christmas special for them."