Sky Swing removed from Cardiff's Winter Wonderland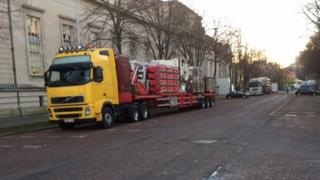 A fairground ride which left passengers dangling 65ft up has been taken down and removed from Cardiff's Winter Wonderland.
People were stranded on the Sky Swing for 30 minutes on Saturday because of an electrical problem before all 12 were brought down safely.
It is the third time the ride has closed since it came to the city.
It will be replaced by another ride called the Mega Swing, which was at the site in November.
Sayers Amusements, which operates the ride, said it was removing the Sky Swing for the rest of the season after it had been unable to find the root cause of the problem.
In a statement on Sunday it said: "Whilst no one was in any danger yesterday, we feel it is best to remove any doubts about its operation."
The Mega Swing, which the firm described as a "similar, though less extreme ride", will operate from Monday afternoon until the evening of 5 January.