Joanne Mjadzelics: Ian Watkins' ex 'warned police about baby abuse'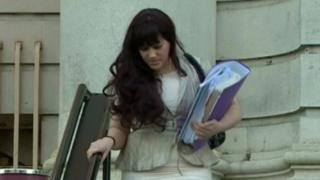 A former lover of paedophile Lostprophets singer Ian Watkins took a mother later convicted alongside him to police and warned them the singer would abuse her child, a court has heard.
Joanne Mjadzelics, 39, from Doncaster, claims she had repeatedly tried to report the singer to the authorities over his interest in child sex abuse.
She told Cardiff Crown Court she took matters into her own hands after police dropped investigations into the singer.
She denies indecent image charges.
Watkins was sentenced to 35 years for child sex abuse offences, including the attempted rape of a baby, in December 2013.
On Wednesday, jurors were shown a video in which Ms Mjadzelics and Watkins were seen discussing the abuse of children.
Under cross examination, it was put to her that she appeared to be enjoying what she was saying.
But she denied that, claiming she had been told what to say by Watkins.
Ms Mjadzelics was also questioned about a time when she asked Watkins for images of child abuse. She claimed she was looking for adult pictures and had played along with Watkins.
Ms Mjadzelics previously told the court she swapped indecent images and had explicit online conversations with Watkins in an attempt to trap him and expose wrongdoing.
The court has heard Ms Mjadzelics first contacted police with concerns about him in December 2008.
She asked about the progress of the investigation in April 2009 but police in Pontypridd, south Wales, told her the investigation had been dropped.
'Bullet in his head'
In May 2011, after Ms Mjadzelics had written to the chief constable of South Wales Police about Watkins, the officer from Pontypridd got back in touch but she told the jury: "He didn't offer any solutions to get the images to him."
As Watkins had previously stolen her phone, she had filmed herself opening the images on her laptop from her Skype account to prove the images had come from Watkins as she was concerned he had sent them to others, she said.
She took the image to Doncaster police, but officers thought it showed a girl over the age of 16. She believed it was of a young girl.
The jury was told Ms Mjadzelics went to police with one of the two women who were eventually convicted with Watkins.
She said she had told police the woman was "totally obsessed with Watkins and her baby will be raped by him".
Ms Mjadzelics said the officer was disrespectful and said words to the effect of "he must really have upset you".
She said she replied: "I'll put a bullet in his head to stop him doing it."
'You're four years too late'
The defendant admitted she had taken overdoses in recent years and had faked her own death by putting an obituary online in order to distance herself from him.
In October 2012, Ms Mjadzelices called child services regarding a woman who was later convicted along with Watkins, claiming she was driven by the fact "there was a child being abused who was about to be raped by Watkins".
The court she broke down in tears when Watkins was arrested and said: "You're four years too late - there's children out there that are never going to be found."
Under cross-examination, the defendant said she had apologised to the singer in 2010 because she felt she must have got her allegations wrong as the police had done nothing.
She had been in love with Watkins in 2007, but after he showed her a video in August 2010 which appeared to show a child being abused, she said: "I hated him. I don't feel anything for him now. He's not even human."
Ms Mjadzelics denies four charges of possessing indecent images of children, two charges of distributing images and a charge of encouraging and assisting the distribution of an indecent image of a child.The trial continues.