Lostprophets Ian Watkins ex denies child abuse web search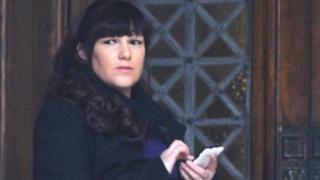 A former lover of paedophile Lostprophets singer Ian Watkins said she has no recollection of sending indecent images.
Joanne Mjadzelics, 39, from Doncaster, also told Cardiff Crown Court she could not remember searching for the child abuse pictures online.
The mother-of-one said she wanted Watkins arrested but did not want to "do disgusting things to trap him".
Ms Mjadzelics said she had repeatedly reported him. She denies the charges.
Watkins was sentenced to 35 years for child sex abuse offences, including the attempted rape of a baby, in December 2013.
On Thursday, the jury was read out a series of text exchanges between the couple in August 2011 relating to child abuse but she she said she was just trying to "get into Ian Watkins' head".
She said she could not remember the indecent photographs she is accused of sending to Watkins - or searching for them.
"I'd remember if I'd done it but I haven't done that," she said.
She added she had no memory of sending a second image, saying: "Possibly I did, but I don't recall."
Ms Mjadzelics maintained she wanted Watkins arrested.
"I didn't want to be with him, I went straight to the top to ask for help to get him, I didn't want to do disgusting things to trap him," she said.
When asked if she was motivated by her jealousy over another woman, the defendant said: "No, I was concerned he was molesting a child."
'Depraved'
The jury heard more exchanges between the pair, and in one text the defendant told Watkins: "I'll do anything for you... I'll lead a life of depraved filth with you."
Ms Mjadzelics told the court she "was doing my job" as prostitute and denied she was obsessed with him
"I was obsessed with trying to trap him and put him away from children," she claimed.
Jim Davies, prosecuting, said: "We know that in 2012 Ian Watkins carried out the abuse that he has admitted.
"You had been feeding his perverted sexual appetite for years before that... all of this talk about abusing, raping and killing children, do you feel a responsibility?"
Ms Mjadzelics replied: "No, I did everything possible to stop it."
The trial continues on Monday.