Cardiff House of Fraser store escalator fall woman dies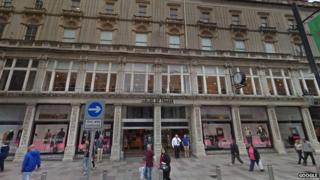 A woman injured by a fall at an escalator in a Cardiff department store on Christmas Eve has died, it has been confirmed.
The incident happened at House of Fraser in St Mary Street in the city shortly before lunchtime.
It is understood another women fell, toppling onto two other customers, including the woman who died.
A store spokesperson said its thoughts were with the family and friends of the dead woman.
Family support
"It is with great sadness that we have learnt of the death of the lady who was involved in an incident in our Cardiff store on Christmas Eve," said the store official.
"We would like to thank our staff for their initial first aid response and care administered to the customer and also the paramedics for their quick response despite the festive season."
The Welsh Ambulance Service said it was called to the scene at about 11:00 GMT on 24 December following reports three people had fallen on an escalators. Two people were taken to hospital.
House of Fraser said the escalator had been checked by engineers on the day of the incident, and it was operating normally.
The store spokesperson said it had also been in close contact with the family of the dead woman, and was continuing to offer support.