Carillion agrees pay deal change for A465 workers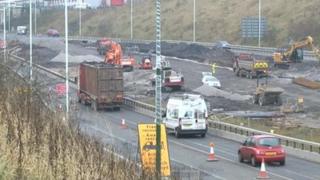 A construction company is changing how it pays agency staff on a major road project in Wales after a union claimed they were being "ripped off".
Carillion has said it is re-working the contracts following a review.
The Union of Construction, Allied Trades and Technicians (UCATT) said many staff were being paid via firms which took admin fees and costs.
A Welsh government spokesman said Transport Minister Edwina Hart ordered the review after the issue was raised.
UCATT staged a protest in November when it emerged that some staff working on the A465 Heads of the Valleys road expansion were being paid through so-called umbrella payroll companies.
Around 50 workers were affected and were losing around £60 a week in fees.