Newport newsagent to sell Charlie Hebdo magazine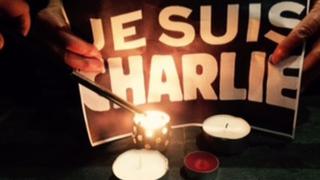 A Newport newsagent says he plans to sell copies of French weekly Charlie Hebdo due to customer demand.
Jon Powell said customers have been trying to secure copies of the magazine a week after Islamist gunmen murdered 12 people at its offices and five others in subsequent attacks in Paris.
The "survivors' issue" has angered some Muslims by depicting the Prophet Muhammad on its cover.
Mr Powell said he has received several orders.
He said he was "not particularly making a stand for freedom of speech or expression", telling BBC Radio Wales: "And even for myself... sometimes I get in in the morning and read I things on the Daily Mirror or Daily Mail that offend me but I don't not sell it because of that."
Millions more copies of the magazine are being printed after the first run sold out in hours.