Circuit of Wales motor racing track inquiry called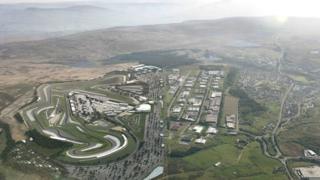 Plans to build a £315m motor racing circuit in the south Wales valleys will go to a public inquiry in March.
The eight day hearing in Ebbw Vale will examine the request to take over 250 hectares (600 acres) of common land.
Backers including Blaenau Gwent council have offered around 320 hectares (800 acres) of land to replace it.
The developers have won the right to promote the MotoGP motorbike race for five years but admit the track will not be ready to host the 2015 event.
The proposed race track would be built on 830 acres (335 hectares) of land next to the Rassau industrial estate, Ebbw Vale.
Habitat fears
The Heads of the Valleys Development Company claims it will create thousands of jobs and attract 750,000 visitors a year.
Construction was due to begin in February 2014 but it is understood that several parts of the planning process remain to be negotiated before work can begin.
Wildlife campaigners have voiced concern at the possible damage to habitats, but Blaenau Gwent councillors have approved the scheme and the Welsh government has said it will not take over the planning process.
Planning inspector Emyr Jones will hear the evidence in sessions at Blaenau Gwent council offices in Ebbw Vale before deciding whether to approve the exchange of land.
The developers described the inquiry as "the final hurdle" in a lengthy planning process.
Circuit of Wales chief executive Michael Carrick said: "This is a hugely important development, not just for the regeneration of Blaenau Gwent, but also for the UK economy.
"It's critical that we ensure every detail is considered in the planning process before construction works can commence."
Circuit of Wales added that it planned to commence work on-site in 2015 and to host the British leg of the MotoGP championship in Wales as soon as phase one of the development is completed.