'Black magic' couple jailed for 17 years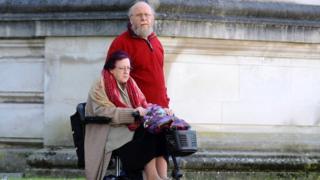 A sadistic couple who bullied a schoolgirl into submission with "black magic" threats before raping her have been jailed for 17 years, at Merthyr Crown Court.
Carolee Hickman, from St Athan, Vale of Glamorgan, told the girl, 11, she was a part of a "powerful" witches' coven.
She then forced her to have sex with her husband, Albert.
The girl blocked it out for 40 years until it came back during counselling in 2011.
The victim, now 53, and cannot be named for legal reasons, told the trial last month that Hickman would make threats to kill her mother using black magic.
The court heard that Hickman now 64, sucked her young victim's blood after cutting her thumb with a special "bejewelled knife".
'Chilling'
After the schoolgirl was held down by his wife, former RAF worker Albert Hickman, now 65, raped her.
A statement from the victim said the couple had destroyed her life and she could still not sleep with the light off.
"Forty-two years ago a little girl met two evil people who took advantage of her," the statement read.
"My life has been destroyed at their hands."
Sentencing the Hickmans on Thursday, Judge Dan Williams described them as chilling and said they had ruthlessly exploited their victim.
'Fear of God'
"You were a couple united by a deep-seated and overwhelming abuse of children," he said.
"You groomed her and gained her trust, you told her you had supernatural powers and that she was the 'chosen one' and you put the fear of God into her.
"It was a specific targeting of a vulnerable victim and threats were made which petrified her."
The court heard Albert Hickman was previously jailed for 10 years for raping a young girl in 1982.
The jury was also told his wife was jailed for five years in 1982 after admitting holding down a child while she was raped as part of "devil worship" which required a virgin girl.