Mum's plea for kidnapped daughter's return from Libya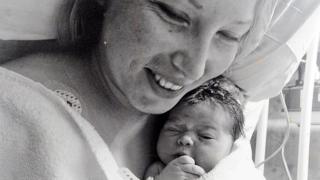 A mother whose baby was kidnapped by her estranged husband and taken to Libya is appealing for her return.
Mal Szymanowicz, 34, from Barry, was shopping when 15-week-old Talia was abducted by her father Maher Belaid. She is now two years old.
He is refusing to return Talia to the UK and Ms Szymanowicz fears she will never see her daughter again.
Belaid is serving a six-and-a-half year prison sentence while Talia remains with his relatives in Africa.
Ms Szymanowicz said: "What Belaid has done is beyond cruel. He has deprived Talia of a mother and me of my only child.
"It's a physical pain that never goes away."
Belaid, a Libyan national, was in Britain working in a pizza takeaway when he met Ms Szymanowicz - they got married and had a child together.
But when their marriage broke down, he took his daughter to his home country in November 2012.
He returned to the UK in 2014 but did not bring Talia with him and was arrested at Gatwick airport for abduction.