Golfer Alan Bannister said he was 'entitled to benefits'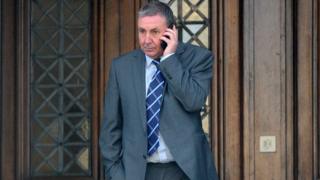 A champion golfer accused of a £26,000 benefit fraud said he needed strong medication to play, a court heard.
Alan Bannister, 56, from Barry, got a mobility vehicle after filling in forms saying he could barely walk 50 yards.
Mr Bannister, who suffers with chronic arthritis, told investigators: "I am claiming for something I know I was entitled to."
He is on trial at Cardiff Crown Court and denies theft and fraud relating to £26,000 in benefits payments.
Mr Bannister, who played off a handicap of six, said his arthritis meant he struggled to lift his hands above his head and could only play after taking strong medication.
'Flare ups'
He was filmed in 2012 driving in his mobility car to St Andrews Major Golf Club in the Vale of Glamorgan and completing the 5,400 yard course in four-and-a-half hours.
When questioned by the defence as to why he played golf, he said: "I get relief from doing it."
He claimed the relief was both physical in terms of exercise and mental by getting out of the house.
In interview with Department for Work and Pensions officers, Mr Bannister said he knew he should tell them if there were any improvement in his arthritis.
He said he still suffered "flare ups" around six times a month and had to take strong medication in order to play golf.
Mr Bannister is accused of dishonestly claiming the money between 2004 and 2012.
The trial continues.