Monmouthshire BB-gun care worker James Gurie struck off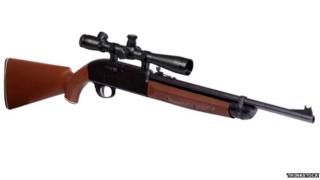 A care worker who let a young boy with a history of "extreme violence" shoot a ball-bearing gun near a home for children with behavioural problems has been struck off.
James Gurie had all misconduct charges bar one found proved at a Care Council for Wales hearing on Thursday.
The panel found he failed to protect the welfare and safety of residents and colleagues at the Monmouthshire home.
He was struck off for a minimum of five years on Friday afternoon.
The care worker was dismissed from the home after the firearms allegations came to light and police also revoked his licence to use a gun.
The one allegation that was not proven was that he allowed two boys to shoot a small gas pellet gun outside the home, while he was inside watching TV.
During interviews prior to the hearing, Mr Gurie said he had been shooting for 30 years and regarded himself as a "shoot leader".