M4 queues into Cardiff cleared ahead of Six Nations clash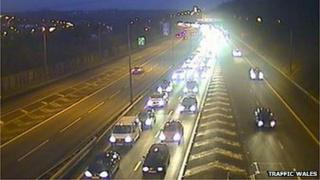 Queues on the M4 motorway towards Cardiff ahead of the Six Nations Wales-England clash have cleared.
Stop-start traffic was being reported for 15 miles between Magor and High Cross, Newport, in the early evening.
Up to 80 police officers will be on patrol in Cardiff city centre at peak times as the number of revellers is expected to reach up to 180,000.
The Wales-England game kicks off at 20:05 GMT in the Millennium Stadium.
An extra 16,500 train seats have been made available to cope with demand while Cardiff Bus has to move some services.
Fans are being advised that they may have to wait up to an hour before being able to board trains after the match due to lengthy queues.