Paedophile Ian Watkins' prison 'move' criticism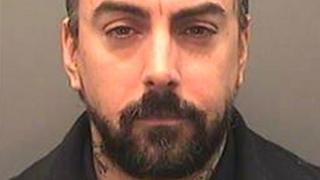 Child safety campaigners are angry that paedophile Lostprophets singer Ian Watkins could have been moved to a lower-security prison.
Watkins was jailed for 29 years in 2013 for a string of child sex offences including the attempted rape of a baby.
He is believed to have been moved from a category A prison to a category B prison, which houses sex offenders.
Ex-girlfriend Joanne Mdadzelics, who repeatedly reported him to police, has called for the decision to be reversed.
Ms Mjadzelics said: "Ian Watkins is meant to be serving a 29 year sentence in a real prison - not a haven for paedophiles.
"I know how evil this man is and people like him will never change and need to be punished severely.
"He and they need to be out of their comfort zone of swapping sick stories with other paedophiles and in a real prison to serve their time.
"If not then where is the punishment for them and justice for the many children and families these evil predators have destroyed?" she said.
Ms Mjadzelics has started on online petition calling on Justice Secretary Chris Grayling to reverse the believed prison move.
Ms Mjadzelics was arrested last year for possession and distribution of indecent images of children that Watkins had sent her over the internet.
She was cleared by a jury who heard she had repeatedly reported Watkins to police and exchanged the images in a bid to expose his criminality.
After he was jailed, Watkins was sent to the category A prison HMP Wakefield in Yorkshire, which also houses April Jones' killer Mark Bridger.
He was later transferred to HMP Long Lartin in Worcestershire, before his latest "move".
The Ministry of Justice has refused to confirm or deny the move but said it was determined to have "one of the toughest regimes in the world for managing sex offenders".
An MoJ spokeswoman said prisons which offered specialist assessment and intervention found sex offenders were more able to concentrate on rehabilitation if co-located away from a non sex offender population.
Jon Bird, operations manager at The National Association for People Abused in Childhood, said it was "disturbing that there are serious sex offenders who are able to mix with their own kind".
Mr Bird added there was a "real concern" about whether Watkins was co-operating fully with his sex offenders treatment and had admitted to the seriousness of his crimes.
He said: "We haven't seen anything to say he is and he has been appealing against his sentencing. He needs to recognise what he did was wrong."