Taylor McDonnell in court over elderly couple's deaths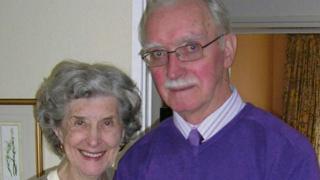 A 21-year-old woman has appeared in court accused of running over and killing an elderly couple while using her mobile phone at the wheel.
Taylor McDonnell, of Caerwent, Monmouthshire, hit Denis and Joyce Drew, both 86, while "grossly distracted", Newport Crown Court heard.
She denies two counts of causing death by dangerous driving.
The court heard she had been speaking on her phone for almost the entire journey before the collision.
Grandparents Mr and Mrs Drew had been taking an evening stroll together using their walking sticks in the village of Ponthir, near Caerleon, when they were hit by Miss McDonnell's blue Toyota Aygo.
They had been crossing a road when the car struck them while being driven at about 30mph on 13 November, 2013.
The court was told the defendant was driving while wearing slippers and was on the way to see her boyfriend.
Prosecutor Lucy Crowther said she made "four or five" phone calls while driving and had been talking on the telephone for 18 minutes of the 20-minute journey.
Miss Crowther said: "She was grossly distracted by her telephone.
"She wasn't paying proper attention to her driving - which ultimately caused the deaths of two elderly people - because a telephone call was far more important."
She added: "The defendant didn't brake her car until she hit Mr and Mrs Drew.
"She didn't take any action to avoid the couple."
Loudspeaker function
The court heard motorists and people from a nearby pub went to help and comfort Mr Drew, a retired RAF airman, and Mrs Drew, who had been a teacher.
But Mrs Drew died a few hours later at the Royal Gwent Hospital and her husband of 54 years died at the hospital six days after the collision.
Miss Crowther said Miss McDonnell admitted speaking on her telephone but said she had been using the loudspeaker function when the crash happened.