Circuit of Wales looking for new site for British MotoGP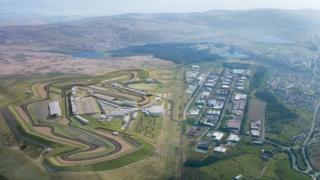 A company planning to build a £315m racing track in Blaenau Gwent says it is working to find a new site to host the 2015 British Motorcycle Grand Prix.
The Circuit of Wales had agreed to run the race from 2015 but as the track is not yet built, the first year was to have been held at Donington Park .
Donington in Leicestershire said it was pulling out of hosting this year's British MotoGP because Circuit of Wales had not completed the funding.
Circuit of Wales denied that.
It said it had not been able to reach a contractual agreement with Donington, adding that it had so far failed to agree how finances would be shared.
Donington's owners said they had to pull out of hosting the event because of delays caused by the funding issues.
The race had been scheduled for 30 August at the Donington racing circuit, which had last hosted MotoGP in 2009 before a move to Silverstone.
Commercial rights holders Dorna announced in August a five-year deal with the proposed new Circuit of Wales, which is unlikely to be ready until 2016 at the earliest.
The Circuit of Wales said it was "disappointed to have been unable to reach a contractual agreement" with Donington to host the race and it was working closely with Dorna to find an alternative venue.
If given full planning permission, land near Ebbw Vale will be transformed into the Circuit of Wales' track to host all but Formula 1 racing.