Strangled wife accused Royston Jones 'was on drugs'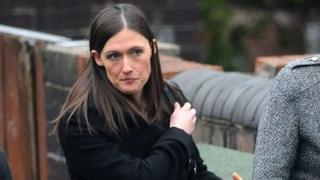 A jealous husband who strangled his wife and tried to kill her as she worked on an intensive care unit was on drugs at the time, a jury has heard.
Royston Jones floored nurse Claire Jones, 35, at Nevill Hall Hospital in Abergavenny in September last year and she was left unconscious.
Defence barrister, Hilary Roberts, said Mr Jones' mind had been that of a "transit psychotic".
The 39-year-old from Brynmawr denies attempted murder.
The jury previously heard Mr Jones threatened to kill his wife because he believed she was in another relationship.
On the day of the attack, he rammed his wife to the floor while she was at work and lay on top of her trying to strangle her.
Her colleagues had to pull him away, the court was told.
But only 24 hours earlier Royston Jones had been seeking a reconciliation, his barrister told the court.
The intervention of drugs - in particular methadone - had changed his thought process and as a result his ability to form intent was compromised, the court was told.
Mr Roberts told the jury that the prosecution had to prove a specific intent to kill.
"He wants her back, loves her, does not want to kill her," Mr Roberts added.
"The prosecution can't prove for sure an intent to kill."
The trial continues.