Phone driver Taylor McDonnell cleared of killing pair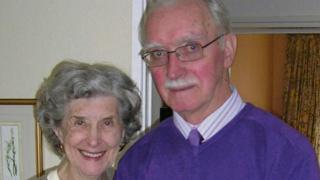 A 21-year-old woman has been cleared of causing death by dangerous driving after knocking down and killing an elderly couple while using her phone.
Denis and Joyce Drew, both 86, were hit while walking home from a friend's house in Ponthir, near Caerleon, south Wales, two years ago.
Taylor McDonnell denied two charges of death by dangerous driving, saying her phone was on speaker.
A jury at Newport Crown Court returned not guilty verdicts.
After the hearing, the Drews' daughter, Sarah England, said: "We will never come to terms with how these two gentle souls lost their lives in such a brutal and violent way.
"The only possible good that comes out of this is to change the universal acceptance of the use of mobile phones while driving."
During the trial, hairdresser Miss McDonnell, of Caerwent, Monmouthshire, broke down when she told the jury how she saw "a flash of colour" before hitting the couple walking arm in arm through the village while she was driving to her boyfriend's house.
Mrs Drew, a retired teacher, died of her "massive injuries" at Newport's Royal Gwent Hospital just a few hours after the collision, while her husband, a former RAF airman, died six days later.
They had been married for 54 years after meeting on a blind date.
Prosecutor Lucy Crowther had claimed Miss McDonnell was "grossly distracted by her telephone" - something which she denied.
Miss McDonnell, who was wearing slippers at the time of the accident, said she was talking to her grandfather on her hands-free speaker phone when she hit Mrs Drew.
"I was driving and I remember seeing on my driver's side the colour of something," she told jurors.
"Before I could get my mind to function something hit my windscreen and I slammed on my brakes.
"I remember getting out of the car and grabbing my iPhone and asked my Bampi [grandfather] to help me.
"At first I thought it was an animal because you don't expect it to be a human."
Jurors in the week-long trial returned their not guilty verdicts on Friday after eight hours of deliberations.