Fire-damaged buildings in Newbridge demolished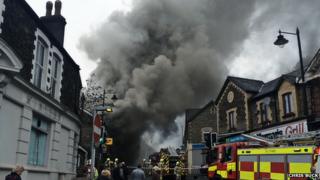 Two buildings are being demolished after a fire broke out on a high street in Caerphilly county.
The blaze happened in Newbridge on Wednesday and two businesses and five properties were affected.
Caerphilly council has carried out a structural review and work to flatten both buildings started on Friday and could finish on Monday.
South Wales Fire and Rescue Service said fireworks were in the back of the building when the fire started.