Patient death payout by University Hospital of Wales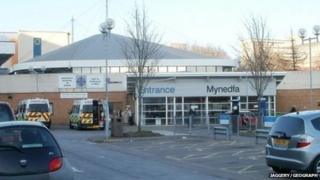 A patient's family who blamed her death on medics' failure to treat her following major heart surgery has received a compensation payout after taking the case to London's High Court.
Margaret Parsons died aged 63 in 2010 - 18 months after suffering a massive heart attack at Cardiff's University Hospital of Wales in April 2009.
The family's legal team claimed medical staff failed to properly monitor her care as her condition deteriorated.
The NHS had denied all liability.
The hearing was told that after heart bypass surgery, Mrs Parsons seemed to be recovering but her condition fluctuated.
On April 12 2009, she sustained a cardiac arrest, leading to brain injuries and later died.
'Sad chapter'
Her family took action against the former Cardiff and Vale NHS Trust alleging negligent mismanagement of their mother's care.
The case was fought on behalf of her five children: Brian Parsons, 38, Julie Chinnock, 46, Clifford Parsons, 41, William Parsons, 43, and Jennifer Parsons, 38.
Mrs Justice Swift approved a compensation payout for the family during the hearing, however, the terms were not disclosed.
Barrister Christopher Kemp, for the NHS trust, told the court his clients expressed "deep regret" at Mrs Parsons' death.
The trust became part of the Cardiff and Vale University Health Board in October 2009.
While stressing that the NHS trust denied liability, Mr Kemp added: "I hope this settlement will allow the family to get some sense of closure from this very sad chapter."
Mrs Justice Swift, approving the settlement, described it as a "common sense" deal which avoided the risks of highly complex litigation.