Welsh World War Two veterans receive Legion d'Honneur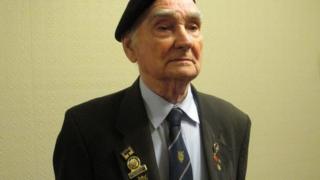 Two Welsh veterans of World War Two have been awarded France's highest honour - the Legion d'Honneur.
Ernest Stringer and Merville John Wintle, both from south Wales, were recognised at the event in Cardiff.
The ceremony commemorated their participation in the D-Day landings in Normandy and their contribution to the liberation of France during the war.
The service on Friday was one of the events marking the 70th anniversary of the end of World War Two.
The medals were presented by the Honorary Consul of France in Cardiff, Marie Brousseau-Navarro.
She said she had "great pleasure" in decorating the two veterans who "particularly distinguished themselves in the fighting to liberate France".
Mr Wintle said he would wear his medal "with pride along with the British medals I have had when on parade or at any function".
Mr Stringer said he was "very proud" to have taken a small part in the freeing of France.
He added: "This is a great honour and means a great deal for me and my fallen comrades."
France is honouring all surviving British veterans of the D-Day landings and the wider liberation campaign, with Friday's ceremony the first being held in Wales as part of the commemorations.