Anne Cluysenaar: Stepson admits poet's murder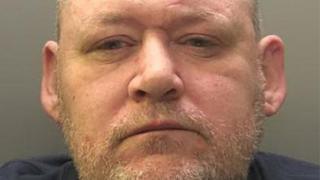 The stepson of a highly regarded poet has admitted murdering her at her farmhouse in Monmouthshire.
Anne Jackson, a Belgium-born poet who wrote under the name Anne Cluysenaar, was found stabbed in the chest and neck on 1 November at her home in Usk.
Timothy Jackson, 49, from Sheffield, pleaded guilty to murder at Cardiff Crown Court.
The court heard he killed her with a kitchen knife in a family row the day after her 39th wedding anniversary.
Prosecutor Roger Thomas QC said Jackson had picked up the murder weapon from a sideboard five feet away during an argument with his 79-year-old stepmother.
"The knife was clearly a household knife and was in the room and when the murder took place.
"It was obviously picked up in the course of the incident that took place."
The judge remanded Jackson in custody and told him to expect a lengthy prison term when he was sentenced next month.
Journals
Ms Jackson had taught literature, linguistics and creative writing at a number of universities including Cardiff.
She started writing poetry when she was eight and had her work published in literary journals and magazines.
Ms Jackson had lived in her home with her husband Walt for more than 25 years.