Cardiff leader challenged over budget vote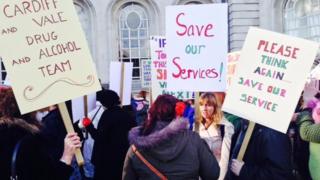 The leader of Cardiff council says a no confidence bid in his leadership is "electioneering".
Phil Bale's claim comes after lengthy talks on Thursday evening finally reached agreement on the city's budget.
Council tax will rise by 5%, with up to 600 jobs at risk as the council find savings of £41m in 2015-16.
The budget was finally passed after several late proposals from the Labour leadership to win support of the party's own back benchers.
Labour councillor Ralph Cook described the process as "shambolic".
The budget was passed just before 23:00 GMT after extra money was found to offer more protection to services including day centres for the elderly, play groups and the drug and alcohol support service.
Following the late amendments, all four opposition groups put forward a motion of no confidence in Mr Bale.
It is expected to be voted on next week.
But Mr Bale dismissed the move as "electioneering" by the Conservatives and Liberal Democrats who are fighting Labour in key general election seats in the city.
Despite unhappiness within his own group about his leadership, he told BBC Wales he is not considering his position.
"I think it's really important now that we do what's right for Cardiff," he said.
"That we work really hard to make sure we make the city even better.
"It's a fantastic place.
"I'm really proud to represent the city where I grew up and I'm looking forward to doing that going forward."
'Cobbled together'
But independent group leader Jayne Cowan said Mr Bale needs to consider his position "very seriously".
"I think the process has been shambolic," she said.
"I've been elected for 16 years so this is my 16th budget and I've never seen anything of this scale before.
"Cobbling together a budget last minute and trying to get support from the group is just outstandingly bad."