Calls for Cardiff council leader Phil Bale to resign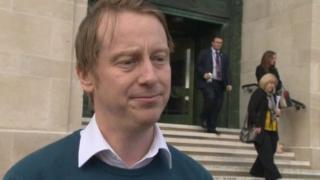 Calls have been made for Cardiff council leader Phil Bale to resign following rows about the authority's budget cuts.
In a leaked email, councillor Ralph Cook asks his party colleague Phil Bale to step down to avoid putting the party "through any more trauma".
Cardiff Business Council's chairman has also urged him to resign but Mr Bale said the criticism was unprofessional.
He faces a vote of no confidence in his leadership on Thursday.
Labour members on the council have been told to vote against the no confidence vote.
But in his email, Mr Cook claims he and 12 rebels will defy the whip.
Mr Bale passed his controversial budget late on Thursday night after several last minute-amendments to appease Labour backbench colleagues.
'Growls of displeasure'
In the email sent to the Labour leader on Friday, Mr Cook, a former leader of the Labour group, said: "I am surprised that you seem unable to appreciate that if you kick a big dog enough times and ignore its growls of displeasure, it will eventually rip the aggressor's throat out.
"You and your Cabinet (and the Group Officers) have signally failed to heed our warnings, some of you have completely failed to understand and live up to your responsibilities and collectively the entire Cabinet as well as the Group Officers have failed to convince me that any of you have the ability to take this Group and Council forward out of the hole into which you have lead us.
"The call from beyond the Labour Group is for you to stand down, privately I support that call.
"After the weekend I fully expect my position to be shared (if it is not already) by the 12 "Labour rebels" so you cannot win the motion of no confidence.
"I urge you not to put the Labour Group through any more trauma and to announce your resignation today".
'Right image'
Nigel Roberts, chairman of Cardiff Business Council - a partnership between the private sector and Cardiff council - said Mr Bale was an "embarrassment" who "does not represent the right image for our capital city".
It comes after the council cut the contribution it makes to Cardiff Business Council by £160,000 in last week's budget. In 2014/15 it gave the organisation £500,000.
"He had a chance to stand up for business in the recent budget cuts," Mr Roberts said.
"He's effectively cut the Cardiff Business Council funding by 70%."
A Welsh Labour spokesman said: "The vote taking place Thursday was called in desperation by opposition parties trying to hide their shameful record of imposing massive cuts on our capital city.
"It is nothing more than a smokescreen to cover the Lib Dem and Tory record in Westminster and we won't be diverted from delivering the progress our city needs."
Responding to Cardiff Business Council's criticism, Mr Bale told BBC Wales: "These comments are unnecessarily personal and deeply unprofessional".