Ex-Heolgerrig school head Jill Evans 'never aggressive'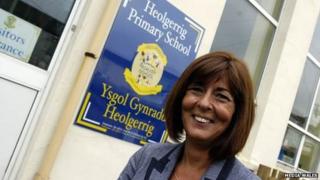 A former head teacher has denied acting in an aggressive or threatening way towards members of staff at a Merthyr Tydfil primary school.
Jill Elizabeth Evans, 54, formerly of Heolgerrig Community School, told a disciplinary hearing she had "never been aggressive in school".
Ms Evans has denied nine allegations of unacceptable professional conduct.
She is also alleged to have appointed her son's girlfriend as a teaching assistant in breach of guidelines.
However, Ms Evans told the The General Teaching Council for Wales hearing that Lindsay Bolton had only a "platonic" friendship with her son at the time of her recruitment.
She disputed evidence of another member of staff who said she believed Ms Evans was aware of Ms Bolton's relationship with her son.
The member of staff claimed to recall Ms Evans picking them up from the airport after they had been on holiday together.
Hair cuts
She also told the hearing she was unaware a school caretaker was allowed to supervise classes while teachers had their hair cut during lesson time.
She said visits to the school by a parent who worked as a hairdresser were part of the school's Investors in People scheme and teachers were allowed to get a dry hair cut at the end of the school day.
Ms Evans admitted one staff member had their hair done during assembly for a "special occasion".
Allegations against her include bullying, harassing and intimidating staff, improper handling of grant aid and breaching confidentiality.
The hearing in Cardiff continues.