Rare golden-eye lichen found in Aberdare by students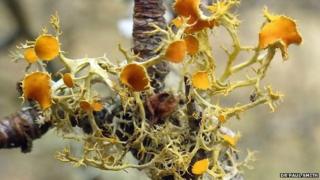 A rare lichen previously believed to be extinct in the UK has been discovered by postgraduate students on a field trip in Rhondda Cynon Taf.
The students from the University of Bristol discovered the golden-eye lichen on the restored spoil heaps at Dare Valley Country Park in Aberdare.
It was later confirmed as a new species record for Wales.
Lichen is a cross between fungus and an algae.
Student Emma Burak, who first noticed the bright yellow specimen, said: "I have spotted four-leaf clovers in the past but never a rare lichen.
"It is very exciting but it has taken me some time to learn its proper name."
In 2005 golden-eye lichen was thought to be extinct in the UK but two years later it appeared in a Herefordshire orchard.
Since then it has popped up in various places along the south coast.
Coal waste is known to support unusual collections of animals and plants.