80-year-old cigarettes found in Brynmawr cinema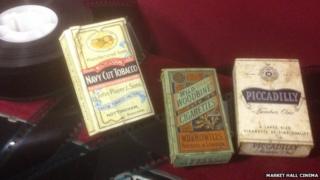 Three cigarette packets thought to date back to the 1930s have been found in a south Wales cinema.
The Wild Woodbine, Navy Cut and Piccadilly Number Ones were discovered when old seats were being removed from the Market Hall Cinema in Brynmawr.
Cinema director Peter Watkins-Hughes said is believed the cigarettes were left in 1934, when the seats were last replaced.
The cinema is planning to give the cigarette packets to a local museum.
Mr Watkins-Hughes added: "They are in very good condition considering their age."
The packets of 10 unfiltered cigarettes would have cost about 2p at the time; old sweet packets, including Smarties and Cadbury's Peppermint Creme Fry's chocolate, were also found.
Beth Watkins, who works for the charity which runs the cinema, said: "If the rightful owner is still around they can collect them from the cinema box office!"