'Too short' Newport half marathon route to be re-measured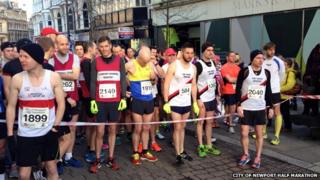 The route of this year's Newport half marathon is to be re-measured after claims it was too short.
Sunday's race was criticised by some runners after their race times were better than expected.
Phil Cook, of the Association of UK Course Measurers, which issued the course with a certificate of accuracy, said it would now be measured again.
He said: "Our gut feeling is that there is an error, but we won't know until we measure it."
Mr Cook said the paperwork of the original measurement did not match that of recent GPS data of the course.
But he said there was "no clear answer" if either one was correct.
He hopes to re-measure the course, along with the person who originally recorded its length, in the next few weeks.
Race organisers St David's Hospice did not want to comment.