Royal Mint visitor centre in south Wales approved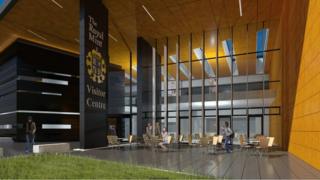 The Royal Mint will be able to offer tours of its inner workings to members of the public after its application to build a visitors' centre was approved.
The Mint in Llantrisant, south Wales, makes coins and medals for approximately 60 countries worldwide.
Work on the centre is expected to begin in April and to be completed by the spring of 2016.
The Welsh government has contributed a £2.3m grant towards the £7.7m cost of the project.
The Mint's Shane Bissett said: "The new visitor centre will showcase over 1,000 years of coin-making history."
Tourism Minister Edwina Hart said the project had the potential to be an "iconic attraction" for Wales.