Smaller bins for Cardiff to help increase recycling rates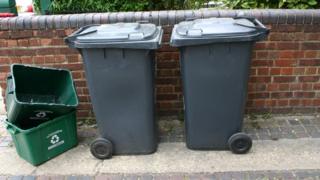 Homes in Cardiff could be forced to recycle more as the council considers introducing smaller waste bins.
Cardiff council wants to replace 240 litre wheelie bins with 140 litre ones - and restricting the number of black bags collected.
Recycling in the city is at the 50% level, but the council wants to increase that to 70% over the next 10 years.
The plans will need to be approved by full council in April.
The council said larger families would be able to register to keep their 240 litre bin, and homes will be issued with more green recycling bags.