Environment group questions choice of M4 relief road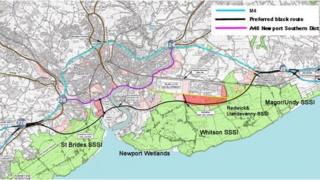 An environmental group has claimed a review of alternative plans for a £1bn M4 relief road was not properly considered by the Welsh government.
Friends of the Earth Cymru said the government was legally obliged to conduct an assessment on other routes.
They told a Cardiff High Court hearing that another route around Newport was not given enough consideration.
Transport Minister Edwina Hart said none of the alternatives were good enough to ease congestion on the M4.
The review is continuing and is expected to last three days.
The new road would be the largest capital investment scheme undertaken by the Welsh government, which has said that it will improve transport in south Wales, cut congestion and boost jobs.
The new 14-mile stretch of road could be ready by spring 2022 if it goes ahead as planned.
But Friends of the Earth Cymru is challenging the minister's decision to approve the so-called 'black route' around Newport.
Tuesday's hearing is the latest challenge to upgrading the M4, since plans were first put forward in 1991.