Beachley Barracks service to honour Afghan war effort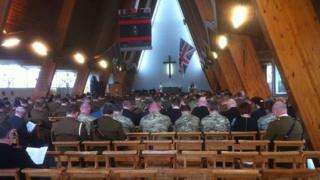 Soldiers and veterans have gathered at Beachley Barracks in Monmouthshire for a ceremony to mark the end of British involvement in the Afghanistan war.
Around 100 people, including families of soldiers wounded in the conflict, attended the service on Friday at the Chepstow barracks' chapel.
Prayers were said for those who served in the war and the Last Post was sounded.
Representatives from every unit in Wales attended.