Cardiff council may write off Glamorgan Cricket Club debt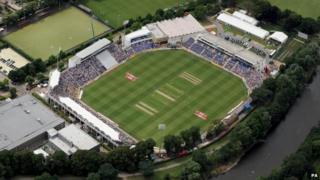 Cardiff council is considering writing off £4.4m from a debt of £6.4m owed to it by Glamorgan Cricket Club.
The club said it is asking its main creditors, which include the council, to write off about 70% of its debts, with Allied Irish Bank and ex-chairman Paul Russell agreeing to the proposal.
The council's cabinet is due to discuss the proposal next week.
The council said the redevelopment of the Swalec Stadium was part-funded by loans with creditors owed around £16m.
Glamorgan chief executive Hugh Morris said the council's "deliberations are clearly critical to the future direction of our club".
In a statement, the council said the club's projected incomes based on stadium improvements which saw it host an Ashes Test in 2009 and a pre-recession business plan had "failed to materialise leaving the cricket club unable to service its debts".
International matches
The club owes the council £6.4m and it wants to repay only 30% to "establish a sustainable financial position for the club which is a requirement to secure international matches", said the council.
It added: "Subject to the agreement of the council, the other main creditors have agreed to the proposal from the club and the report to cabinet will also approve the write off of debt, having considered independent financial advice on the proposal and on the club's medium term financial plan."
Councillor Graham Hinchey, Cardiff's cabinet member for corporate service and performance, said: "When the loans were made the economic environment was in a far better situation and nobody saw the recession coming.
"The council will continue to work closely with the other creditors, the club and Welsh government to ensure that the benefits of cricket and the stadium to the local and national economy are maximised going forward."
The cabinet meets on Thursday 19 March.