One Butetown tunnel reopens following Cardiff car fire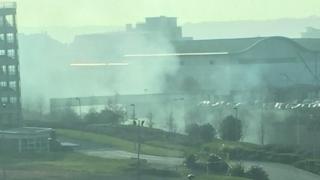 One of Cardiff's Butetown tunnels has reopened following a car fire.
South Wales Fire and Rescue Service was called just after 15:40 GMT to the blaze in the A4232 inbound tunnel.
The fire has been put out and no injuries were reported but the road is likely to stay closed for most of Thursday evening.
Both tunnels were closed for safety reasons but the outbound carriageway reopened at 16:20 while the inbound remains closed.