Rhona Greve's grandson denies fatal dog attack charges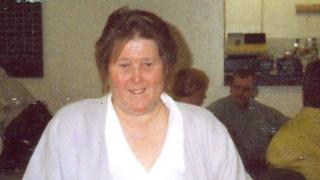 A man has denied two offences under the Dangerous Dogs Act after his grandmother died following an attack.
Cardiff Magistrates' Court heard Craig Anthony Greve, 23, of Cardiff, was the owner of an American bulldog which was dangerously out of control.
Rhona Greve, 64, of Ely, Cardiff, suffered 16 bite wounds after the dog, named Solo, attacked her last Friday evening, the court was told.
She later died at the University Hospital of Wales.
Mr Greve is charged with both having a dog while being banned for life from doing so, and being the owner of a dangerously out of control dog which injured Mrs Greve, who died as a result.
Members of his family and friends were in the public gallery for the hearing which lasted nearly an hour.
The case has been sent to crown court and he was remanded in custody.
A 17-year-old boy who was also arrested in connection with the incident has been released on police bail pending further inquiries.
Supt Andy Valentine of South Wales Police's eastern division said: "This is tragic incident, which I know will shock and upset the local community.
"The woman's family are understandably extremely distressed and are being supported by specially trained police officers."
Mrs Greve, a mother of four, received face and neck injuries during the attack.
Supt Valentine reassured local residents it was an "isolated incident".
Speaking as he laid flowers in Mrs Greve's memory, neighbour Stephen Reynolds told BBC Wales: "It's unbelievable. I can't understand what's happened. I only heard the other night so I thought I'd put some flowers on now.
"She was a lovely lady. I couldn't fault her. I'd known her for quite a few years."
Another neighbour said there had been a dog at the house for years.
"She was a real lover of people and their pets. She loved having people around, and their pets too," she said.