Weight-loss mum's one chocolate egg for Easter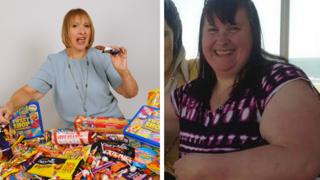 A self-confessed chocoholic who used to splurge £2,000-a-year on sweets is ready to enjoy her only chocolate treat of the year.
Carolyn Aissaoui, 50, from Aberdare, weighed 22 stone and was a size 28.
She has since lost nine stone by kicking her sweet habit and will now only tuck into just one treat at Easter - an After Eight dark chocolate egg.
"I won't allow myself to be tempted [for more] because I've worked so hard to lose the weight," she said.