Amelia Jones death: Fall claim by grandfather Mark Jones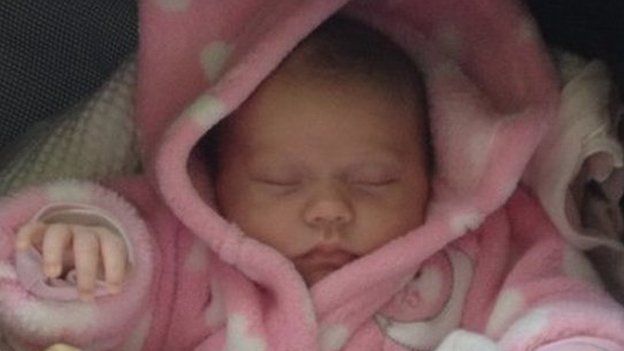 A Cwmbran man accused of murdering his five-week-old granddaughter told a doctor the baby "slipped from his hands" while being fed, a jury heard.
Mark Jones, 45, has pleaded not guilty to murder at his trial at Newport Crown Court.
Amelia Rose Jones died in November 2012, two days after police were called to a home in Pontnewydd, Cwmbran.
A doctor who examined Mr Jones in hospital said he told her the child had fallen and hit her head.
Dr Stephanie Coakley told the trial that she had examined the accused in hospital while he was being held in custody.
She said she made a note of what Mr Jones told her.
She told the court that he said: "He was holding her while making her a bottle, while shaking it, she slipped from his hands, hitting her head on the floor."
Earlier on Monday, the court was told that Mr Jones "felt shocked" when he was taken to Ystrad Mynach police station in 2012.
Sergeant Andrew Elias wrote in his notes: "Detained person's granddaughter dies only three hours ago, states not depressed, but will begin the grieving process."
Mr Jones was then referred to a mental health professional based at the station.
Sergeant Elias told the court he also asked Mr Jones whether he had any medical conditions. He said he replied "no".
Mr Jones was examined at the police station by the lead custody nurse for Gwent Police, Louise Price, who asked him if he suffered from any current or previous medical problems.
She told the court he said: "He had none, no current medical problems or previous medical history."
She said he also told her he was not taking any medication.
The court had previously heard that Mark Jones claimed to have been suffering from cancer and told his daughter he had a brain tumour.
Under cross examination by Mark Jones' defence barrister, Mrs Price said Mr Jones was "trembling and rocking back and forth", adding: "He was upset and crying."
She told the court that after her examination she felt Mr Jones was not capable of being interviewed by police.
The trial has been told that baby Amelia had suffered a fractured skull, brain swelling and multiple rib fractures. She had been injured at least three different times, the jury has been told.