Murder accused says 'someone else' dropped Amelia Jones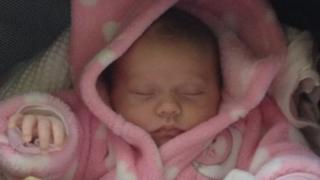 A man accused of murdering his five-week-old granddaughter said someone else dropped her the night she was taken to hospital, a court has heard.
Mark Jones, 45, of Cwmbran, Torfaen, has pleaded not guilty to murder at his trial at Newport Crown Court.
The jury heard Mr Jones changed his story during a series of police interviews over a number of months.
Initially, Mr Jones said he tripped over a toy and dropped Amelia Jones the day before she was taken to hospital.
He told police he dropped his granddaughter on 16 November 2012, but then said in a later interview that another person, who cannot be named for legal reasons, dropped her the following day while "messing" with their phone.
The trial has been told that baby Amelia suffered a fractured skull, brain swelling and eight rib fractures.
She had been injured at least three different times, the court heard.
The trial continues.