St David's Hospice gets £3m funding for new Newport unit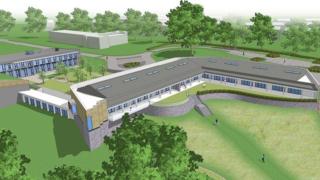 A new £5m in-patient hospice service for terminally ill patients in Newport is to receive £3m in funding from the Welsh government.
The 15-bed unit will replace the smaller St Anne's Hospice which opened in 1979.
It will be built next to the main hospice building run by St David's Hospice Care (SDHC).
The unit will ensure people get the "best possible palliative and end of life care", said boss Emma Saysell.
It will be run in partnership with Aneurin Bevan University Health Board and Newport council.