Amelia Jones murder trial: Accused 'thought baby was OK'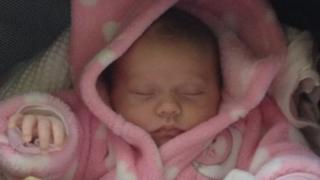 A man accused of murdering his five-week-old granddaughter has told a court he "thought the baby was alright" after dropping her on her head.
Mark Jones, 45, of Cwmbran, Torfaen, has pleaded not guilty to murder at his trial at Newport Crown Court.
Continuing to give evidence in his defence, he said he checked for injuries "once or twice".
The court has heard Amelia died after suffering a "catastrophic" bleed to the brain and a fractured skull.
Mr Jones was looking after her in Pontnewydd when she was injured in November 2012.
The defendant said he fell with Amelia in his arms on one occasion and passed out while holding her on another.
'Can't remember'
Prosecuting counsel Paul Lewis asked Mr Jones what the "impact" was like when he dropped her after he said he tripped over a toy penguin.
The father-of-seven replied: "I can't comment, because I can't remember that far."
Asked again, "what was the force of the impact?", he replied: "Not too bad."
Asked why he had not told his daughter Sarah Jones - Amelia's mother - what had happened when she arrived home, he answered: "To be honest I thought she was alright".
Police interview
Mr Jones also told the court he could not read and signed a defence document without understanding it.
Mr Lewis asked him to read the transcript of a police interview.
Mr Jones replied: "I can't read sir, can I". The court was then told he was dyslexic.
The prosecutor put it to the defendant that the defence document "might have said Mark Jones is guilty of everything?".
He replied: "If it did, it did".
The trial continues.