Barry mother found hanged after police attend domestic disturbance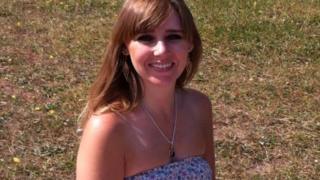 A mother-of-two was found hanged at home after police were called to a domestic disturbance involving her partner, an inquest has heard.
Lisa Moller, 35, locked herself in her terraced house in Barry after a violent row with her boyfriend Joseph Ashenhurst, 31.
Cardiff coroner Christopher Woolley was told police were called to Cwrt Eirlys twice in the early hours of 31 August.
The inquest will resume on Thursday.
The court heard officers attending the house were told she had been heard telling Mr Ashenhurst: "You have tried to put your hands on me for the last time."
Neighbours said they called 999 because Mr Ashenhurst was aggressively hammering and kicking on the back door, smashing plant pots and shouting.
Police officers knocked on the front door and called Ms Moller's mobile phone, but after failing to get any response they drove Mr Ashenhurst away from the street and warned him he would be arrested if he returned.
Broke in
Officers attended again at 09:30 BST but could not make contact with Ms Moller.
The court was told Mr Ashenhurst returned to the house and broke in through the back door at 10:50 and discovered Ms Moller's body.
Forensic pathologist Dr Richard Jones said: "I don't think that the pathological evidence suggests Lisa was killed before being suspended or was suspended by somebody else without consent."
PC Jonathan Howe, the first police officer to call at the house, said they did not have enough information to force entry.
"We attempted to make contact for quite some time - knocking on the door to the point my colleague broke the letterbox," he said.
Carpenter Mr Ashenhurst said he had never been violent towards Ms Moller during their one-year relationship.
He said he could not remember the argument that led to him being locked out, but said after police took him away from the street he slept in the back of his work van for the night.
Mr Ashenhurst told the inquest he believed the police could have done more to check on Ms Moller on the night she died.