Cardiff mosque opened to non-Muslims to improve relations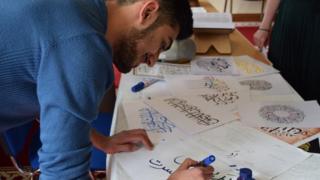 A Cardiff mosque has been opened up to non-Muslims in a bid to improve community relations.
A series of open days are being held at Dar Ul-Isra, in Cathays, with workshops and an Islam exhibition.
Mo Alamgir Ahmed, from the mosque, said: "The first part of our religion is to engage with the wider community, Muslim and non-Muslim."
Mr Ahmed said the idea was to help counter negative stereotypes, such as terrorism and Muslims going to Syria.
"There's been no particular backlash in Cardiff, but there was a spate of Islamophobic attacks - not physical but spitting and slurs," he added.