Prince Charles tells former Welsh Guard of granddaughter hope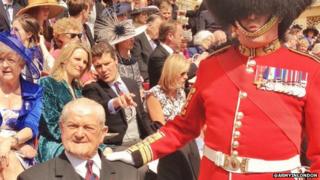 The Prince of Wales has told the oldest surviving member of the Welsh Guards he is hoping the Duchess of Cambridge gives birth to a girl.
Prince Charles was with the Queen at Windsor Castle on Thursday where she was presenting new colours to the 1st battalion Welsh Guards.
He told Eric Jones, 100, from Merthyr Tydfil, "We're hoping for a granddaughter".
Mr Jones said Prince Charles was "very down to Earth, one of the boys".
"I thought it was wonderful. It was nice he felt he could tell me how he felt", he said.
'Very special'
Mr Jones attended the event with his daughter Lynda Bateman.
Mrs Bateman, 70, also from Merthyr Tydfil said: "We'd been introduced to the Queen and Prince Philip and then someone approached us saying that Prince Charles wanted to meet my father.
"He said my father was looking well and asked how many daughters he had.
"My dad said, 'just the one and that's enough'.
"We all laughed and Prince Charles said, 'we're hoping for a granddaughter this time'."
"I couldn't believe it when he said it," she said.
"Prince Charles and Camilla were so nice and made my dad feel very special."