Cardiff man completes 159-mile run home after marathon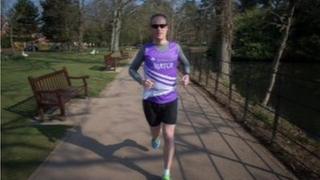 A Cardiff man has arrived home after running 159 miles from London following Sunday's marathon.
James Rudolf, 41, ran the equivalent of six marathons in six days.
After a number of "tough moments" on the journey that saw him run up to 30 miles a day, he arrived at Cardiff Arms Park on Friday afternoon.
The effort raised £53,000 for cancer charity Latch, which helped after his son Oscar, five, was diagnosed with a rare form of the disease.