Royal baby: £5 coin to mark birth of new princess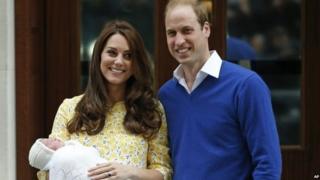 A special £5 coin to mark the birth of the royal baby has been unveiled.
The coin will be struck at the Royal Mint's south Wales base in Llantrisant.
The Duchess of Cambridge gave birth to a girl on Saturday and Prince William and Catherine have called their second child Charlotte Elizabeth Diana.
"It is only fitting that we commemorate this new addition to the Royal Family... just as we celebrated the arrival of Prince George," said Shane Bissett from the Royal Mint.
The Royal Mint is also giving a "lucky" silver penny to 2,015 babies born on the same day as the new princess.