Ypres service to honour Monmouthshire Regiment's fallen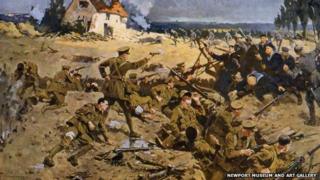 Men from a south Wales regiment who lost their lives at the Second Battle of Ypres are being commemorated in Belgium.
The Flanders remembrance service will honour the 1st and 3rd Battalions of the Monmouthshire Regiment on Friday.
The event near Ypres will also mark the centenary of the battle.
Gwent Western Front Association has organised the service as part of a trip to the Ypres and Somme battlefields which starts on Thursday.
Chairman Peter Strong said 8 May 1915 was a day that "deserved to be remembered".
The group will also attend a Last Post ceremony at the Menin Gate.