Motorcyclist died in 'race' with car near Newport, court hears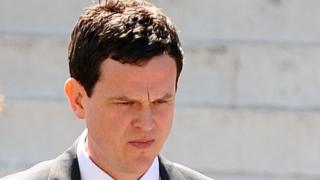 A hospital doctor has gone on trial accused of causing the death of a motorcyclist as they took part in a "form of race" near Newport, south Wales.
Rider Kevin Morgan, 60, and Dr Vincent Hamlyn were "gunning" their engines at traffic lights and both drove off at speed, Cardiff Crown Court heard.
Mr Morgan died in the crash last June.
Anaesthetist Dr Hamlyn, 33, from Chepstow, denies causing death by dangerous driving.
The court was told the rider of the 300cc Kawasaki motorbike and the driver of a high performance 3-litre-engine BMW were "jostling for pole position" at the lights at the Coldra roundabout before heading on the A449 towards Monmouth.
Opening the trial, prosecutor Matthew Roberts said the vehicles were "trying to outpace and race each other to gain advantage because it is known the road goes into one lane".
Mr Roberts said: "But for the speed of both people, Kevin Morgan would have survived."
The jury was told that Dr Hamlyn and another man stopped to try and assist Mr Morgan but their efforts were futile.
The jury has been told that Dr Hamlyn said: "I'm not calling it as I'm involved in the incident - he's just hit my car."
The court heard Mr Morgan, from Cwmbran in Torfaen, died from "catastrophic" blunt head injuries.
"Both were driving dangerously," accepted the prosecutor.
"But what can not be ignored is the culpability of the defendant who had a direct causal link with the death of Mr Morgan," added Mr Roberts.
The trial continues.