Russell Goodway objects to Glamorgan Cricket debt write-off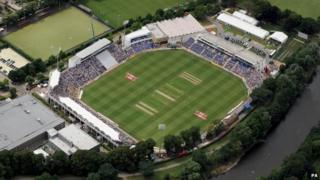 Cardiff councillors are to reconsider writing off £4.4m of debt owed by Glamorgan County Cricket Club after it emerged an ex-council leader objected.
The club borrowed the money from the council nine years ago to finance the rebuilding of the SWALEC stadium.
The authority's cabinet had agreed to a request to write-off 70% of the £6.4m it owes.
It has now been confirmed that former leader Russell Goodway has "called in" the cabinet's decision.
Previously it was only known that a lone councillor was trying to block the plan, which would have involved the remaining debt to the council of £1.9m being restructured and paid off in future.
Partly in private
Mr Goodway will address a meeting of the policy review and performance scrutiny committee at County Hall on Thursday.
He has listed six reasons in his letter to request the decision be "called in".
These include claims that other options to secure the council-taxpayers interest were not considered, concerns about the on-going financial performance of the club and its apparent inability to pay its debts when they fall due.
The council's policy and resources cabinet member Graham Hinchey is expected to speak during the meeting, which will partly be held in private.
Representatives from accountancy firm Deloitte, which has advised the council, and another creditor, Allied Irish Bank, have also been invited to attend and answer questions.
Glamorgan's chief executive Hugh Morris has warned the club could become insolvent if a deal on debts is not agreed.
The council could get almost nothing if the club goes into administration.
Allied Irish bank and former club chairman Paul Russell have already agreed to write off the majority of the debt owed to them.
Glamorgan Cricket made an operating loss of £88,000 in the last financial year.
The club will host an Investec Ashes Test at the stadium in Sophia Gardens which starts on 8 July.