Dr Les Ala returns to Vanuatu after 'heartbreaking' disaster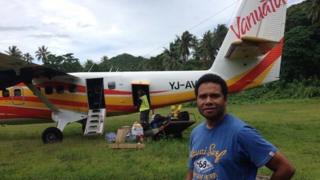 A south Wales consultant worked around the clock, treating hundreds of patients and repairing medical equipment in devastated parts of Vanuatu.
Cyclone Pam hit the south pacific island in March, wiping out food crops and leaving tens of thousands homeless.
When it struck, Dr Les Ala, a consultant physician at Llantrisant's Royal Glamorgan Hospital had just left after a first visit home in 15 years.
The disaster was "heartbreaking" and he made plans to travel back and help out.
Despite having no news of his own family's safety for two weeks, he spent 21 days working in accident and emergency departments at hospitals in the capital, Port Vila and in Luganville.
As well as working around the clock to treat hundreds of patients, he held clinics twice a day and taught nurses during his lunchtime.
While Dr Ala's work was not directly linked to relief work, he carried out medical duties that allowed others to be involved.
The trip was supported by his employer Cwm Taf University Health Board. Dr Ala is now back in south Wales and raising funds for his countrymen.